Whether it's for a night out, family holiday or work function, Turnbull's Hire range of vehicles will suit your requirements. Our fleet includes modern mini buses from Sydney Airport

As a family owned business we understand your needs with flexible pick up times and after hours drop off available for your bus hire.
Bus Hire Sydney – Our Mini Buses are a great way for getting your large group from A to B whether you're in Sydney CBD or flying in from interstate or overseas.
Planning to fly into Sydney Airport?We can organize to have your minibus ready for pick up at flexible times suitable to you.
Are you planning to head interstate or doing a long trip? Need a bus for that big family holiday? Call us to find out about our all inclusive rates.
Our self-drive 12 , 22 and 25 seat Minibuses are a great way to move your group to and from your destination. They are suitable for use by school, community and corporate groups through to private hires for your family outing or holiday.
All of our minibuses have automatic transmissions and come equipped with tow bars. We also have a range of enclosed box trailers should you require extra luggage space.
For your safety, all seats on our minibuses have seat-belts, and there are three anchor points included for child restraints. Other items that can be hired along with your bus include baby and booster seats, and GPS units, helping to create a hassle free travel experience.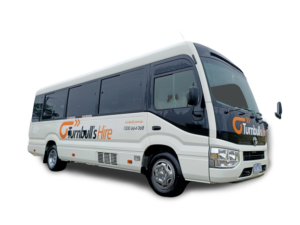 The 12 Seater bus can be driven by anyone with a full car licence. 22 and 25 seaters require a light rigid licence. If you have any licensing queries, please contact our helpful office staff.